June 30th, 2020
COVID-19 has caused a voter registration crisis. The New York Times and FiveThirtyEight (article and podcast) covered work done by the Center for Election Innovation & Research (CEIR) that shows voter registration in 11 states (and DC) is down by 70% in April 2020 vs April 2016.
tl;dr:
Voter registration was down approximately 70% in April 2020 vs April 2016 according to CEIR
Publicly available DC, VA and MD data indicate this issue continued into May, with those 3 areas down 33% YTD vs 2016
More than 77% of voter registration occurs in person, so changing the trajectory of registrations in a social-distanced 2020 will require a very different approach to registration
What's happening?
Voter registration typically increases from one presidental election year to the next due to population growth. That was the case in January and, to a large extent, in February as well. However in March and April, the results dropped off a cliff as the CEIR shows: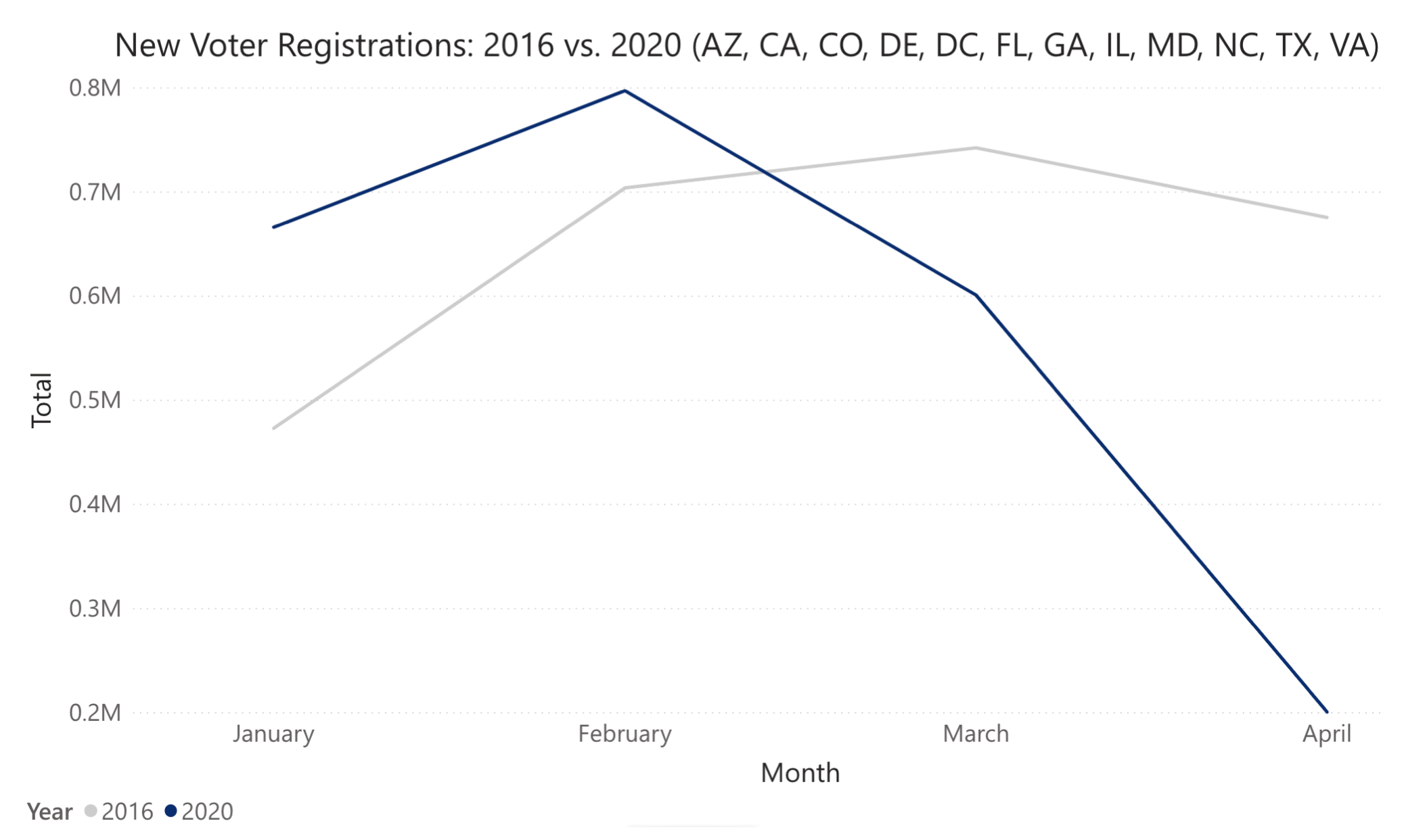 The CEIR's report is limited. It only includes 12 sources that either provided their data directly to CEIR or published it online. The data also end in April due to the fact that most of these states publish this information significantly in arrears. Both the NYT and FiveThirtyEight note that there's some evidence that registrations picked up in May and June with reopenings and increased voter engagement.
Of the 12 sources, DC, Virginia and Maryland have provided an online update with May results so I collected the new data into a spreadsheet. Here are those three locations with May included:
You can more clearly see the COVID-19 impact that begins in February and March if you look at cumulative registrations:
As you can see, there's a slight pickup in May but it still lags behind May 2016 and leaves cumulative registrations down 33% vs four years ago.
Why is the COVID-19 impact so large?
This dropoff in registrations isn't surprising because most registration currently happens in person. The Census Bureau does a Voting and Registration Supplement to their Current Population Survey every two years in which they ask voters to self-report their method of registration. In the 2016 supplement, it looked like this for the 80% of respondents who provided an answer to the question:
Of all the reported methods, only two (in red) are remote: mail and online. Fully 77% of those responding to the question registered in-person at the DMV, at a registration drive, etc.
With COVID-19, nearly all of those methods are on hold so it's not surprising that registration has collapsed. It's difficult to imagine this changing significantly by November given the current surge in COVID-19 cases.
In order to alter this trajectory we're going to have to fundamentally change our approach to voter registration to rely on integrated campaigns that encourage mail and online registration. That won't be easy.